Tolstoy Timeline
1828 August 28 Leo Tolstoy is born.
1844 -1847 Went to Kazan University, but got no degree.
1851 Joins his older brother in military service in the Caucasus.
Started his diary, which he led until death. Here, inspired by Caucasus, Tolstoy starts to write.
1851-1853 Participates in some military actions in Caucasus. Soon after the beginning of the Crimean War, by personal request, he was sent into battle to Sevastopol.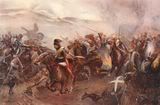 1852 Writes his first work, novel Childhood.
1853-63. Writes narrative The Cossacks.

1854. Writes novel Boyhood.
1855 Moves to Saint Petersburg, where he meets famous Russian writers like Nekrasov, Turgenev, Goncharov, Chernishevsky, etc.
1857 Writes novel Youth.
1858-59 Writes novel Family Happiness.

1859- 62 Opens and works in a school for peasant children at Yasnaya Polyana.
1863-69 Writes epic novel War and Peace.

Start of publication 1865.
1873-77 Writes novel Anna Karenina.

1878 Converts to Christianity.

1884-86 Writes The Death of Ivan Ilych.

1889-99 Writes novel Resurrection.

1891 Renounces his copyrights and declares he will give all his possessions to his serfs. After his sons and Sofia object he agrees to leave the estate to the family.
1896-1904 Writes short novel Hadji Murad,

Tolstoy's last work.
1901 Is excommunicated from The Russian Orthodox Church for writing Resurrection.
1902 Writes a letter to the Tsar warning him of civil war unless the tsar grants Russia its freedom.
1908 Writes a will relinquishing all copyrights.
1910 November 10 Tolstoy dies.